A-Complete-Menstrual-Hygiene-Soluation
For-the-Strong-Confident-and-Active-Womens

In-Vitro
Cytotoxicity Tested

Skin
Sensitization Tested

Intracutaneous
Reactivity Tested

Vaginal Membrane
Irritation Tested
Aarya menstrual cup is a bell-shaped, silicone made product which is used to collect menstrual discharge. As an alternative to pads and tampons, Aarya reusable menstrual cup for women eliminates the possibility of leakage or rashes giving you freedom to do what you want even during your periods. Aarya's in-house production ensures high-quality, safe and touchless production of period menstrual cups that suits the need of every woman. Being safe, comfortable sustainable and cost-effective, it allows them as an enabler for women to be worry-free and tackle the obstacles of life head on.

Eco-friendly

Easy to use

Leak-proof

Protection
upto 12 hours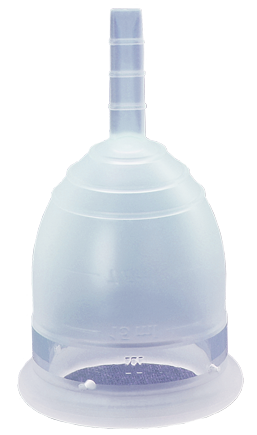 Sustainable
upto 5 years

Cost- effective

Odorless

Toxin-free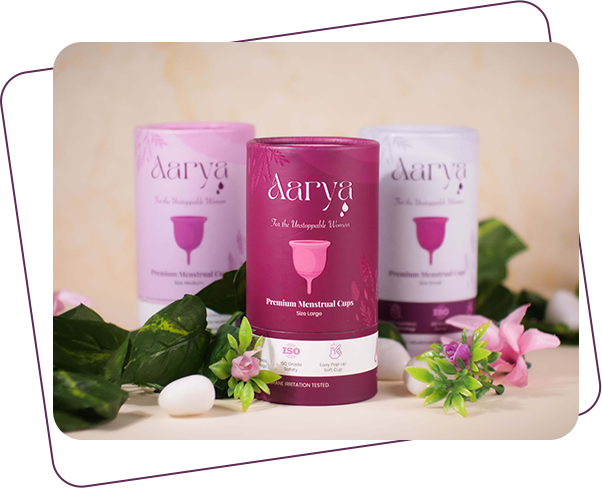 Realizing the dire situation of menstrual awareness in India, we decided to take the matter in our own hands. The impact of spreading awareness about periods and menstrual health goes a long way. When a woman is made aware about her health, she transforms the future of not just her family but of the society as well. In order to bring about such a revolutionary change, we came up with Aarya Menstrual Cups that help women realize their true potential and lead the nation towards a healthier future. We have made sure all our Hygiene products are High-Quality, tested and verified for their safety in use.
In order to spread awareness and increase the adaptation of women hygienic products, our team at Aditya Polymers manufactured 1 lakh Aarya Menstrual Cups for the distribution at the Cup of Life Event organized by IMA Cochin, MP and District Administration of Ernakulam.
Driven by the pride of enabling these 1 lakh women to take their lives head on, we broadened our approach to take the world of women hygiene forward with our complete range of products, including the Menstrual Cup, Cup Wash, and Natural Intimate Hygiene Wash. The Menstrual Cup provides a comfortable and eco-friendly alternative to traditional feminine hygiene products, while the Cup Wash ensures easy and effective cleaning. Additionally, the Natural Intimate Hygiene Wash is thoughtfully crafted to maintain the body's natural balance and promote overall intimate health. With Aarya's products, women can embrace a sustainable and confident approach to their personal hygiene needs.
Come be part of a transformation we are bringing about and live a healthy life here on.
Aarya pegs the Guinness World Record by distributing 1 lakh Menstrual Cups within 24 hours
Honored with the opportunity to manufacture the reusable menstrual cups for the Cup of Life Event by Indian Medical Association(Cochin), MP and District Administration of Ernakulam and Muthoot Finance, our team set out to make it a reality. The spark of awareness shone brighter when Aarya pegged a Guinness World Record along with Mr. Hibi Heden, MP of Ernakulam by distributing 1 lakh menstrual cups within 24 hours on 30th August 2022 at Kochi.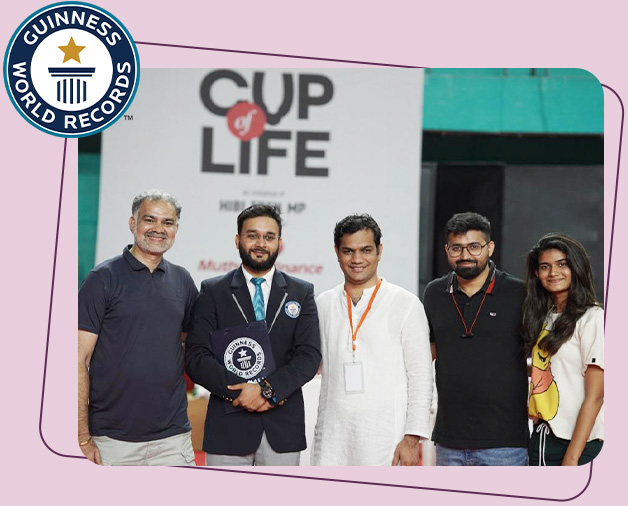 F A Q's - Aarya Menstrual Cups
A menstrual cup is a bell-shaped, flexible device, which is designed for use inside the vagina during period. It is a reusable sanitary pad & tampon alternative worn inside the vagina that collects flow rather than absorbing it. Cups come in all sizes and shapes to fit the wearer best and are most often made from medical grade silicone. They are a safer, healthier, and more comfortable way to manage your period.
Initially for one or two cycles, inserting and removing a menstrual cup can be messy. It's usually mess-free after practice. When you're new to a cup it's best to remove it in the shower. Reusable menstrual cup are far less messy than most imagine them to be. It is counted as more comfortable and easier period product in the later use.
STEP 1 - STERILIZE: Disinfect the period menstrual cup before every use by washing and keeping it in boiling water for 5 minutes.
STEP 2 - FOLD: Take the cup with clean hands and fold its rim. There are many ways of folding it, like the punch down fold, the C-fold or the 7-fold. Try whichever fold suits you best.
STEP 3 - INSERT: Gently separate the opening of the vagina with other hand and push the folded side in. Ensure that the cup is inserted completely inside the vagina. The stem may or may not stay: outside the vaginal opening depending upon the depth of your cervix. To facilitate smoother insertion, raise your one leg to an elevated position or squat down with your legs apart.
STEP 4 - PLACEMENT: Once properly inserted, ensure that the menstrual cup pops open fully inside. Run a finger around the side of the period cup. It should feel smooth, comfortable and unobtrusive. If you feel folds on the cup. it implies that it hasn't opened properly. Pinch the base of the cup (not the stem) and rotate it in the same position to let it unfold, thus creating a vacuum seal which ensures zero leakage.
STEP 5 - USE: Due to its design, the silicone menstrual cup is most suitable for an active lifestyle. Including sports like swimming, dance, hiking, running, travel etc. Depending upon individual flow, it can be used for up to 12 hours at a stretch. You do not have to remove your menstrual cup to urinate. Sometimes when you defecate, the position of the cup may change or it may fall out. Thus, you have to remove and reinsert it.
STEP 6 - REMOVAL: Wash your hands thoroughly. Sit on the toilet/squat down with your legs apart. Insert two fingers and a thumb to hold the stem. Pull the stem until you can touch the bottom of the cup. Pinch at the bottom of the cup to release the suction and pull the silicone menstrual cup out gently.
STEP 7 - EMPTY: Empty the cup in the toilet pot and rinse it with water thoroughly for reuse. Make sure the holes near the rim of the cup are cleaned and not clogged. Depending upon the flow, empty the cup 2-5 times daily.
STEP 8 - STERILIZE: Before keeping it away for use in the next cycle, sterilize and clean the period menstrual cup thoroughly.
Nidhi Deodhar
I really liked it. Aarya is one of the most comfortable cups I've used..and also cost effective!
Meena Iyer
Travelling across the city is part of my job. But using public toilets always gave me a tacky feeling. But Aarya's Stand and Pee and Toilet Spray come in so handy no matter where I go.
Bharti Sen
The intimate wash is so gentle on my skin and doesn't cause any kind of rash or itching.
Lubna Dixit
I have been using Aarya menstrual cups for more than a year now and the product has been working without any issues.
Lakshmi Seth
I was skeptical about switching to menstrual cups from regular pads but Aarya's quality and toxin-free products have made the transition so easy and comfortable.
Shana Leary
The cups are so soft and easy to use. They stay in place and feel like I'm not even wearing anything. Highly recommended.
Saniya Sharma
I suffer from intense pain during my periods. The pain relief patch has been of immense help to relieve the pain and get me through my periods.

Mon. To Fri. : 10am to 6pm.
Inspired by the modern woman, Aarya menstrual cups are a part of a premium range of products aimed at encouraging women to become confident, powerful and boundless.
© 2023 Aaryacare - All Right reserved!